Marie J. Morrell
Athletic Director, Land/Aquatic Instructor/Personal Trainer
Phone:928-443-3505
E-mail:mmorrell@prescottlakes.com

If you're ready to get serious about your health and improve your level of fitness, Marie has the skills & knowledge to help you achieve your goal.
Marie is an AFAA (Aerobic Fitness Association of America) certified Personal Trainer and Fitness Instructor, Body Pump certified Weight Training Instructor, AEA (Aquatic Exercise Association) certified Aquatics Instructor and specialty trained fitness instructor through the Silver&Fit and SilverSneaker senior fitness programs. She has been working in the fitness industry since 1992. Her passion to maintain excellent health and fitness is an integral part of her life. In addition to personal training she teaches several  fitness classes weekly.
Marie offers independent or partner personal training on land or in the pool depending on your needs and goals. Her desire is to make your need to stay fit an informative, fun, and positive experience. She will design a program that  is specific to your needs and goals. Whether your desire is to maintain your activities for daily life, improve your health, or get an edge up on your game, Marie has the skill and the knowledge to help you meet your goal.
"I believe that once people find an enjoyable way to improve their cardio respiratory  fitness, muscular strength and endurance, and mental wellness; they will have all the tools they need to be successful in maintaining and improving their overall health and well-being."
Staci Braithwaite
Land Instructor / Personal Trainer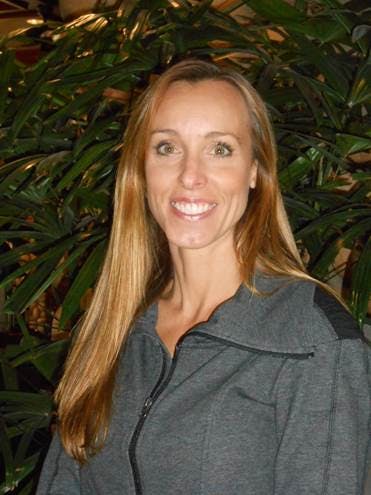 Staci earned a bachelors degree  in Health Promotion from Brigham Young University (1995).   She has taught Aerobic Classes at BYU and the Utah County Health Department.   She is a certified Personal Trainer through American Counsel on Exercise (ACE) and is pursuing Group Fitness Certification through ACE.  
Staci joins The Club at Prescott Lakes Athletic Team as a substitute instructor for our group fitness classes.  She plans to obtain additional certifications in specialty programs such as SilverSneakers, Yoga, and Aquafit.  
Staci's motivation to exercise is to be fit for good. She wants to stay strong physically, emotionally and spiritually to support her husband and children and to serve her community. She has discovered that exercise douses discouragement and helps her keep a positive outlook on life.  After surgery, Staci learned the importance of taking it slow during recovery then being persistent in her efforts to progress to a healthy level of fitness.   Staci understands how it feels to be unable to walk even one block in a day and then progress to running 5 miles.  Staci loves to help others on their road to recovery or set fitness goals for the first time.  She enjoys hiking, mountain biking, running, weight lifting, aerobics and spending time with her family.  
Staci believes healthy living is a Way of Life!
Shiri Briseno
Land Instructor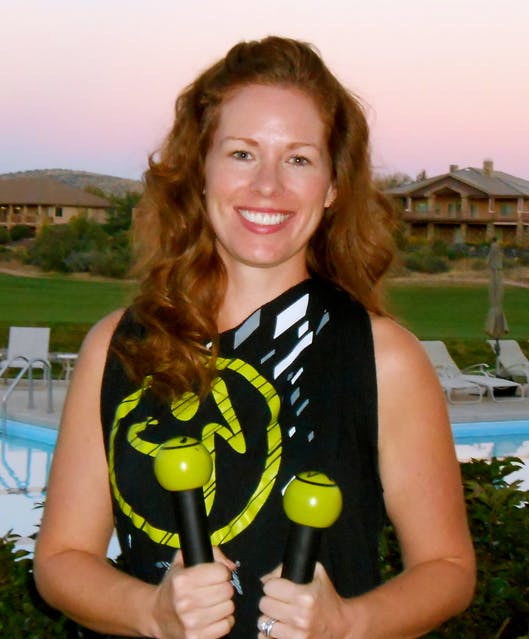 Shiri has been teaching Zumba since 2011 and obtained her license to teach Zumba in March of 2011. 
Shiri is currently certified to teach Zumba, Zumba Circuit, and Zumba Toning.   She is working toward the newest Zumba certification called Zumba Sentao.   She is currently studying to obtain a group fitness certification with AFAA (Aerobics and Fitness Association of America) additionally she plans to return to school in 2013 to pursue a degree in nutrition.  
Shiri loves to teach Zumba because every class feels like a party!   Shiri has lost 60 lbs. and has not had to resort to fad diets or starvation.   Teaching motivates her to eat more sensibly because she feels better and doesn't need to deprive herself of anything.   As a mom of 3 young boys she understands how challenging it can be for moms to take time for themselves and make working out a priority.  Give her an hour and together you will laugh, dance, and push your body in ways you never thought possible.
Jane Chesen
Sub Instructor

Jane has been teaching fitness classes at the YMCA in Prescott since 2002.  
She initially certified as a group exercise instructor with AFAA (American Fitness Association of America). Her current certifications include YMCA Foundations of Group Exercise, YMCA Cardio and Step Aerobics, and  YMCA Water Fitness Instructor.
Jane teaches as a substitute for several classes at Prescott Lakes such as Sunrise Stretch, Power Pump, Stability Ball, Aqua Fit, B.O.A.S.T., Beat to Beat, Cardio Mix, and Yoga.  She also teaches several classes at the YMCA.   YFIT (a low impact aerobics), Stretch & Flex, Stretch, and Move & Balance (a chair class).   Classes she subs at the YMCA include Aqua Fitness, Step Aerobics, SilverSneakers, Yoga, and Pump Iron. 
Jane has been actively involved in her own fitness since childhood (and thinks it is a lot of fun).   After retiring she decided to share her love of fitness with others by becoming a group fitness instructor.   She especially enjoys helping others reach for and attain their fitness goals.
Suzy Furlong
Aquatic Instructor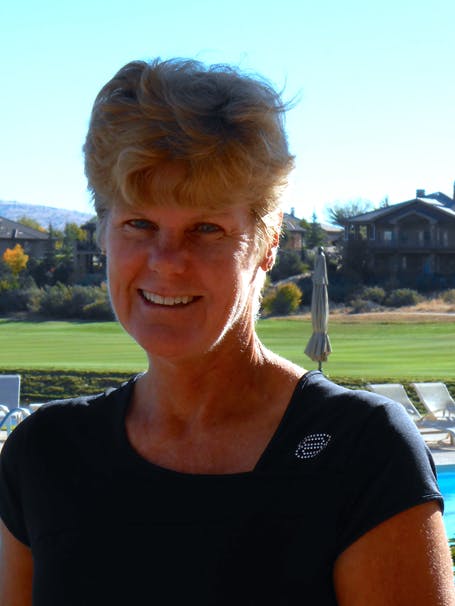 Suzy has been teaching aqua fitness classes since 2001, Jazzercise(2002), Silver&Fit/SilverSneakers (2004), and was certified through the Arthritis Foundation in Arthritis Aquatics (2012).
Suzy is one of our wonderful substitute instructors.   She has subbed classes such as Beat To Beat, Aqua Arthritis, and AquaFit classes.   She teaches Jazzercise, Aqua, Silver&Fit and holds certifications with AEA (Aquatic Exercise Association), Jazzercise, Silver&Fit, and Arthritis Aquatics.
Suzy loves to body surf in the ocean and needed endurance, stamina, and strength to battle the waves.   Working out and teaching is a great way to for her meet her fitness goals and help her students meet their goals too.
Stacey Graustein
Personal Trainer - Land and Aquatic Instructor
Phone:928-899-3989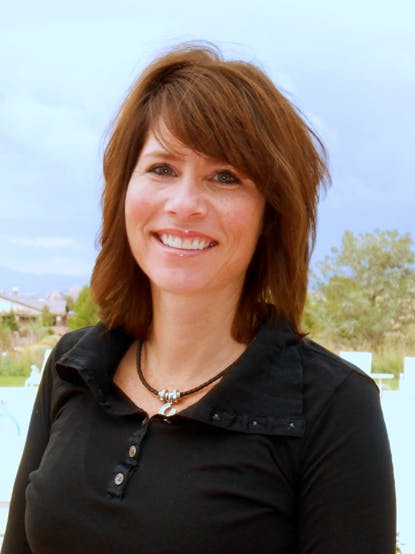 Stacey has a passion for people and for fitness. The phrase that comes to mind when discussing fitness is, "if you don't move it, you lose it".
The two largest hurdles to fitness are; first to begin and second to stay with it. Adherence to a fitness plan is one of my main objectives as a personal trainer. Fitness ensures independence which allows one to participate in any activity that is of interest(i.e. golf, pickleball, taking a walk with your dog, hiking, keeping up with your children or grandchildren, running a marathon.) My goal as a personal trainer is to assist the client to find the program they will continue so they will have an enriched life. Exercise is good for your physical well being, your mental health and stress release.
Stacey holds a B.A. degree in business from Southern Methodist University and a B.A. in Elementary Education from Prescott College in addition to several fitness certifications. She is anAFAA certified personal trainer and group exercise instructor. Stacey also holds certifications in Jazzercise, Les Mills Body Pump, and AFAA Mat Core. Her past certification include Spin, Zumba, Turbo Kick and Silver Sneakers. She currently teaches B.O.A.S.T., Beat to Beat, Aqua Stretch and Range of Motion and Drumming classes at Prescott Lakes.
Whether it's your first time in the weight room or looking for variety in your workout, or  a senior who wants to focus on strength and balance I will dedicate myself to tailor each session to your  specific needs. My 20 plus years in the fitness industry and regular attendance at international fitness workshops qualifies me to help you attain your fitness goals and embrace them for life!
Jan Hart
Sub Instructor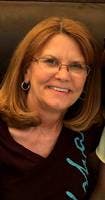 Jan serves as a substitute instructor at Prescott Lakes for Beat to Beat, Zumba Gold and B.O.A.S.T.  Jan has been teaching Zumba fitness for two years.  She  currently teaches at Anytime Fitness in Chino Valley and Prescott Valley, Curves in Prescott Valley and the Adult Center in Prescott.  She also teaches Silver Sneakers at Anytime Fitness in Chino Valley. 
Several years ago, after making a commitment to fitness, Jan joined a gym that offered  Zumba.  After attending one class she was hooked.  Zumba did not feel like a workout and the hour flew by.  After a couple of years as a class participant, one of the instructors suggested she get certified to teach.  It was a bit intimidating because she was the oldest person in the class.
Jan loves teaching Zumba because dancing is a fun way to stay in shape and the class attendees have become friends. In addition to Latin music, Jan choreographs routines to country, pop, and older tunes; there is something for everyone. Teaching senior fitness classes such as Silver Sneakers and B.O.A.S.T. is rewarding because it allows Jan the opportunity for to witness  class participants improve strength and function.
Stacey Horvath
Zumba Instructor

Stacey found Zumba in 2010 and fell in love with the teachers and the music.  Early in 2012 she made a decision to  become aZumba instructor.
Stacey has been teaching Zumbaclasses since  March of 2012 and is certified to teach Zumba,Zumba Gold & Zumba Toning. 
Stacey has loved dancing since she was a little girl. She started taking Modern Jazz classes when she was a young child and believe it or not she got severe stage fright when she had a performance.

Stacey found Zumba in 2010 and fell in love with the teachers and the music.  Early in 2012 she made a decision to  become a Zumba instructor. 
Deborah Kingery
Personal Trainer
Phone:928-379-1259
 Health, fitness and exercise have always been an important part of Deborah's life. She has taught fitness classes in her church and participated in many different types of exercise. Deborah received a personal trainer certificate from Yavapai College and she is an ACE (American Council on Exercise) certified Personal Trainer. She substitutes for Gentle Stretch and Pilates classes at Prescott Lakes and enjoys exercise as a vital part of her own life. In addition to Personal Training and subbing classes, Deb also supports our pool and Front Desk staffs.
Deb uses the ACE Integrated Fitness Training Model in resistance training and cardio respiratory training for programming and progressions when implementing an individualized fitness program. She offers personal training, training for couples or family members of all ages who are seeking new ways to enjoy exercise.
Deb worked in the dental industry for more than 20 years following which she decided  it was time to change her vocational direction and pursue her longtime dream of fitness training. Deb likes to be healthy and fit at any age and wants to help others who desire that as well. She loves to exercise and participate in fun filled group fitness classes such asZumba and enjoys fast walking, hiking and spending time with her family. Deb is excited about this new adventure and looks forward to learning more each day.
I have found there are countless benefits from being healthy and exercising on a regular basis. Our bodies are amazing creations that are interwoven with our soul and spirit. The benefits of fitness and health are not solely concentrated in the physical; they influence all aspects of our being. I truly am excited about this new stage of my life and am very grateful to have the opportunity to share it with you.
Ray Korda
Tai Chi Instructor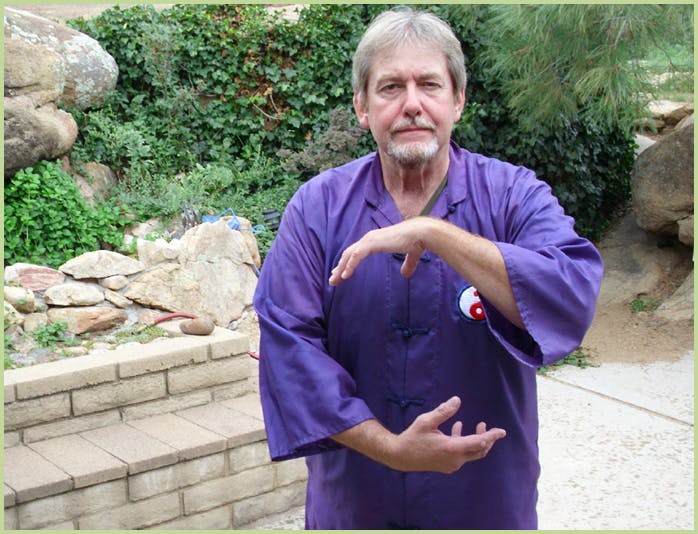 Tai Chi is an ancient Chinese system of exercise – often referred to as a moving meditation. Its' benefits include: increased lung capacity, stimulated circulation, greatly improved balance, and an overall feeling of relaxed energy.
Your instructor, Ray Korda, has over 40 years of  Martial Arts and Tai Chi teaching experience, and holds an 8th degree black belt in Kenpo Karate.
Janice Middlemore
Land and Group Cycle Instructor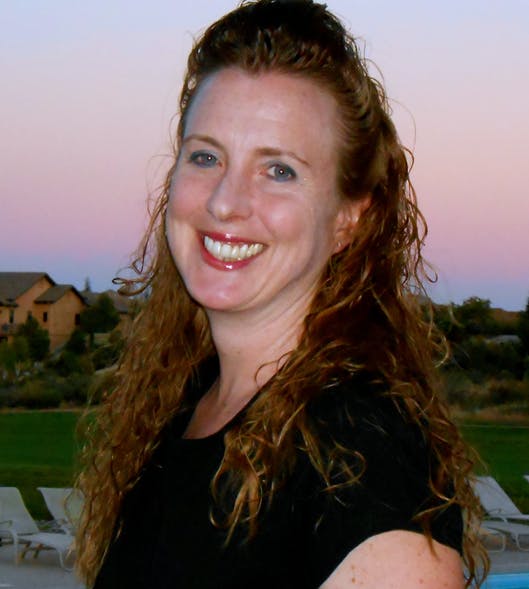 Janice has been teaching fitness classes since 2000.  
Her certifications include ACE (American Council on Exercise) Group Fitness, ISSA (International Sports Sciences Association), Fitness Trainer, Johnny G. Spin Instructor, SilverSneakers; Cardio Circuit, Yoga Stretch, and Muscular Strength/Range Of Motion, Zumba Licensed, and Healthways Older Adult Fitness Accreditation.
Janice teaches the M/W 6PM Evening Aquafit and T/TH 6PM After-Work-out at Prescott Lakes.  She teaches SilverSneakers Cardio Circuit at the Prescott Downtown Athletic Club and at the Y.M.C.A. her classes include Pumping Iron, Step Aerobics, Deep Water Aqua, Cardio Bosu, Zumba, and Group Cycle.
Janice changed careers and was motivated to teach fitness classes because she wanted to inspire people to make changes in their bodies and to discover abilities they never realized they possessed.   She loves making fitness a fun and integral part of her students lives.   They work hard and enjoy classes together; creating a community that enriches everyone in more than just the physical workout.